TEAM COMANSA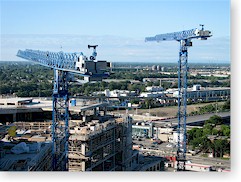 Comansa team is distinguished by its sense of innovation, its outstanding service and professionnalism.
The 45 years of experience in major projects of the members of the extended team enable clients to benefit from extraordinary expertise with regards to tower cranes. 
The technician teams are specifically trained for the modern technology of Linden-Comansa's flat-top tower cranes.
Specialized teams 24hours/day, 7 days/week, 365 days/year.